We have put together this buyers' guide to help you and your organisation assess visitor management systems and pick the one that is right for you.
Because of varying requirements, there are a lot of factors to consider when assessing systems. These include what features you need through to pricing and everything in between.
We hope this buyers' guide enables you to make the right decision.
What is a Visitor Management System?
A visitor management system allows an organisation to effectively manage and report on the flow of visitors into and out of their buildings. Some systems, like Welcm, will have the functionality to handle deliveries and even track staff to help increase safety and security of the organisation's facilities. Visitors who arrive at the building will be able to sign themselves in on an iPad or similar device to register their arrival. In many cases reception staff will be able to use a dashboard on their PC to sign in visitors too.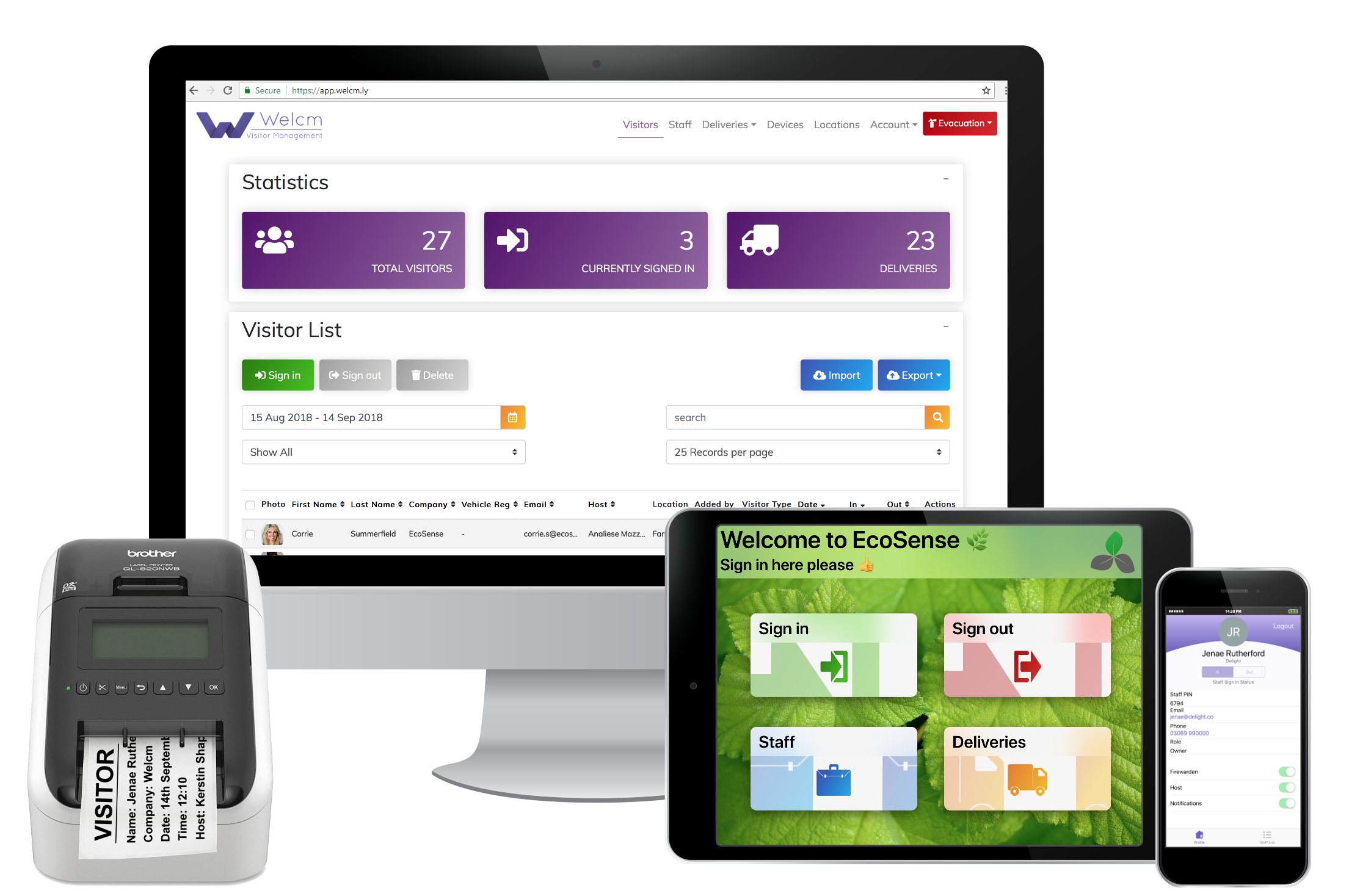 The Welcm visitor management system dashboard, visitor sign in device, badge printer and companion app
Once a visitor has signed in, systems will often be able to automatically notify the person the visitor has arrived to see that their guest has arrived. Visitor badges can also be printed in order to identify the visitor and allow them to access appropriate areas of the building.
In the event of an evacuation, fire wardens or security personnel can access evacuation reporting facilities. This facility can be extremely useful particularly if the system also tracks the attendance of staff. This allows full reporting of exactly who is in the building at any given time.
As visitor data is collected reports can be generated to help an organisation know when are the busiest times and plan accordingly. Data security can also be managed well by some systems. Look out for useful features like those found in Welcm. For example automatic data anonymisation and deletion so you can control exactly how long you hold visitor data for alongside the ability to display visitor data policies on sign in and even the ability to automatically send these policies to visitors.
Standard Features found in a Visitor Management System
Features vary between the top visitor management systems, but the following features are standard amongst the majority:
Visitor sign in / out
Visitors can sign themselves in and out of the building on an iPad or similar device
Notifications
Once a visitor has signed in the system can send a notification to the person the visitor has arrived to see
Badge printing
This allows the system to print a visitor identification badge containing the visitor details once they have signed in
Document display
Important documents can be displayed to the visitor on sign in with a request to agree to be bound by them. These might include data privacy policies, health and safety instructions or non-disclosure agreements.
Photo capture
For additional security the system may be able to take a photo of the visitor as part of their sign in process. Some systems like Welcm will include the photo on the notification sent to the visitor's host so the host can easily recognise them.
Device customisation
In order to match an organisation's branding, systems often allow the visitor-facing devices to be customised with logos, background and sometimes special instructions or text.
Additional Features of a Visitor Management System to look out for
Some businesses need their system to be able to do more than simply manage visitors and rather allow for full reception management. Look out for systems like Welcm which offer features like the following:
Staff sign in / out
A feature like this will allow organisations to know which members of staff are currently in the building. This is a particularly useful feature for evacuation handing.
Delivery handling
This feature allows couriers to register their delivery and have the system automatically send a notification of the delivery. This can be very useful in the absence of a member of staff in reception or for organisations which have a "goods in" entrance which may not always have someone dedicated to watching for arrivals.
Multi-location
Some organisations will have multiple buildings and for them this feature can be essential for creating a complete solution. This feature can often result in higher charges so look out for systems like Welcm which offer this functionality at no extra charge.
Live support
Alongside traditional support methods look out for a live support feature. This allows organisation to chat online with a support agent who can help and answer any questions you may have.
Free account: All the features, 1 location, 3 devices, 100 staff
What Type of Organisation Are You?
A visitor management system can be used by a wide variety of organisations to help improve security, safety, efficiency and the visitor experience at their buildings. Some features can be extremely useful, even essential, for some organisations whilst the same features may not be important to others. This is often dependent on what industry the organisation is involved in so look out for the features that your organisation requires.
Businesses
Businesses can keep their data much more secure using a visitor management system than they can with traditional paper-based methods. Visitor experience can be improved with increased efficiency and an impressive, customised self-service sign in system. Notifications are also useful as they will allow staff to know when their visitor has arrived.
Schools / Universities
Schools and universities can benefit from visitor badges allowing both staff and students to recognise visitors easily. Photo capture can also help achieve this goal
Hardware Considerations
A visitor management system may require or benefit from the use of hardware and accessories for visitor sign in and visitor badge printing. Such hardware may include:
iPads / tablets / kiosksAs mentioned earlier, reception staff may be able to use a dashboard on their PC to greet and sign in visitors. In many cases organisations will want to supplement this facility with self sign in facilities. Having an iPad, other tablet device or a kiosk will allow them to do so. iPads and tablets can be mounted in secure enclosures on a reception desk or similar to keep them safe whilst a kiosk is generally a free standing unit.
Printers
In order to identify visitors a printer will be required if an organisation wishes to print visitor badges. These can be kept behind the reception desk allowing a member of the reception staff to hand over the badge or could be placed next to the sign in device. Some kiosks may have a printer built in.
Lanyards
Depending on the type of visitor badge dispensed, a lanyard may be required to hold the visitor badge. These can be kept next to the sign in device or could be handed out by reception staff to visitors.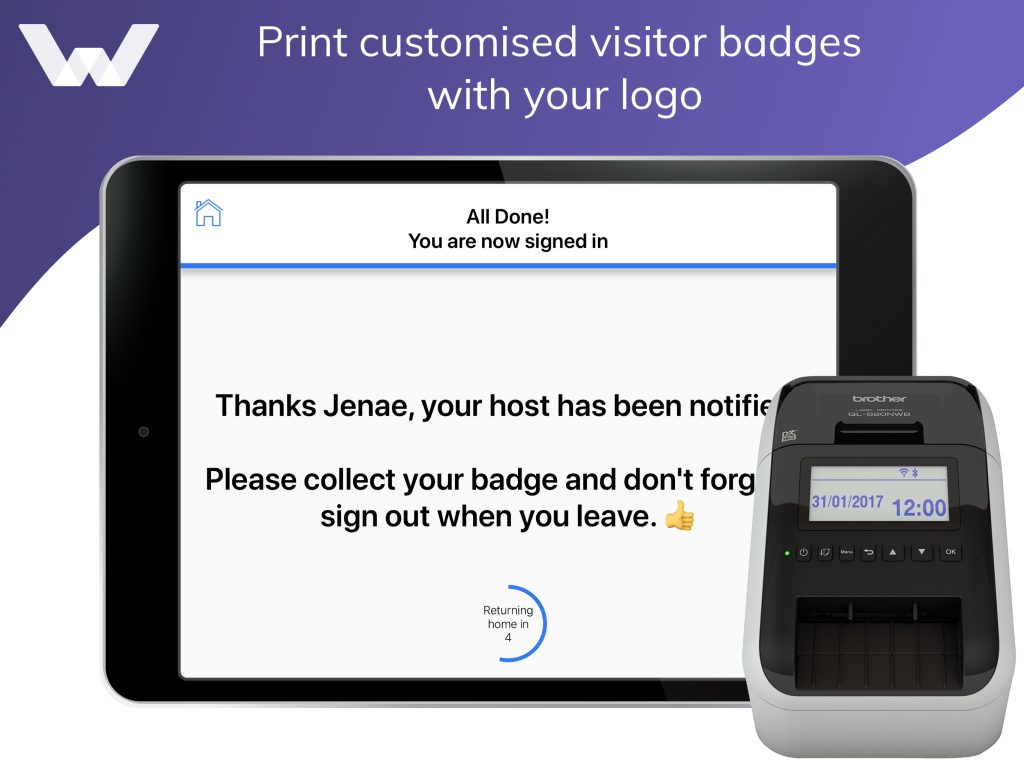 Pricing
The vast majority of visitor management systems are sold on a subscription basis. This means they require either monthly or annual payments. This can offer a high degree of flexibility to organisations and avoid a high initial outlay on a system.
It is worth noting that whilst a subscription is the most common method for vendors charging for their system, the way the charge is calculated may vary. Be sure to evaluate pricing carefully and pick the one that is right for you. The following are some standard pricing models:
One price
This is not a common pricing method for visitor management systems but can be extremely beneficial to businesses large and small. It allows the business to always know how much they are going to be charged, roll out the system to more offices or add additional devices without their price changing. This is the method we use at Welcm.
Per reception / lobby / location / building
A lot of visitor management systems will charge one price for a single location and increase the price with each additional location added. This can create an expensive system if you have several locations you wish to manage with your visitor management system.
Per user / staff member
Some visitor management system vendors will charge based on the number of staff members that are added to the system. This can result in an expensive system if you have a large number of staff members or even price fluctuations as staff numbers change over time.
Per visitor
Some systems pricing is linked to the number of visitors processed by the system. This can be a good thing if an organisation has a small number of visitors but can create some nasty surprises if there is an unexpectedly busy period
Per device
Visitor management systems can be charged for based on the number of visitor facing devices used. The first device will be included in the standard price with an additional fee added for each additional device.
Combination
Some vendors may use a selection of these pricing methods. It is important to pay particular attention to this as it can create complicated and variable charges.
And finally…
If you have any questions about anything in this buyers' guide please feel free to get in touch. Our staff are always happy to talk to you and help you make the right decision for your organisation.
« Back