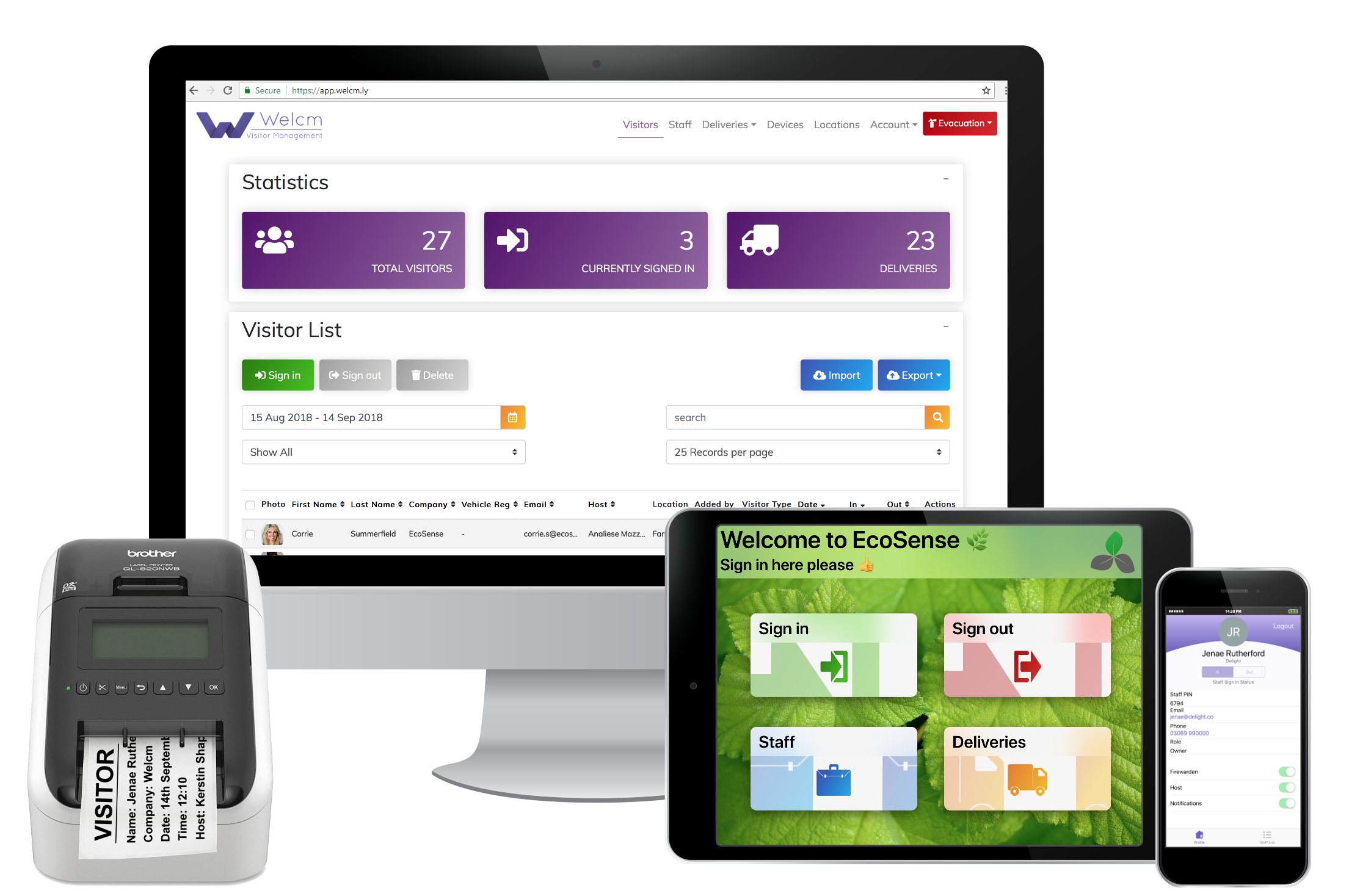 You can improve health and safety and security
You can show important notices to visitors as part of the visitor sign in process. Welcm allows you to display a health and safety notice, an NDA and a visitor data policy to all visitors. This ensures visitors know what you expect of them and what they can expect of you. With Welcm you can even have the visitor data policy automatically sent to the visitor. Visitor photos and visitor badges are important parts of a visitor management system. These features improve security levels within your building. Welcm also offers an evacuation facility so you can safelymanage evacuations.
You can improve the appearance of your reception area
Visitor management systems like Welcm give you a choice of hardware options. You can pick an iPad kiosk or secure enclosure that fits well with your reception. Customising the hardware to match your organisation's brand gives a great first impression. Of course you can also customise your sign in app. You can add your organisation's logo, backgrounds and custom text if you choose. Visitors will see you care about your organisation and are up to date with technology.
Reception staff have time to carry out extra tasks & offer better service levels
It is very hard to predict how busy your reception is going to be. It may be quiet one moment, and then many visitors may arrive the next. Reception areas rarely experience a constant, even flow of visitors. This means reception staff are often either over-worked or under-utilised. In quiet periods they may have their time wasted waiting at the reception desk. During busy periods they may not be able to offer the service levels they would wish to.
A self-service kiosk for visitor sign in as part of a visitor management system like Welcm can help. Staff will not leave visitors waiting if they have to leave the reception desk to go and do another task. It also allows the reception staff to offer a higher level of service during the busier periods.
They provide a great return on investment
Costs are always a concern to organisations whether small or large. A visitor management system can be of a significant help by bringing many cost savings. A visitor management system can support overworked reception staff. This means you will not need new staff to help with the workload. Less stressed reception staff is also likely to reduce staff turnover. This in turn helps reduce recruitment and staff training costs.
They can improve productivity
A visitor management system can save money even if you do not have reception staff. In this instance other staff are often interrupted by visitors or couriers. Interruptions like this stop staff working and reduce productivity. Many studies have shown it takes almost 25 minutes to return to full productivity. This adds up to a lot of time, and therefore money, lost each week. A visitor management system prevents these interruptions. As such the organisation will save the time and associated financial cost.
Automatic notifications means visitors and couriers are never left waiting
Visitor management systems like Welcm can send notifications in various formats. These can notify a host that their visitor has arrived. They can also notify staff that a courier needs a signature for a delivery. Automatic notifications means reception staff can help visitors instead of calling hosts. Notifications are also more reliable as they won't be missed by hosts. Welcm includes a photo of the visitor in the notification. This means there is no more guesswork when a host goes to collect their visitor.
You can issue instructions to visitors, couriers and staff
It is often important to get messages to people passing through reception. For visitors you might wish to tell them what to do after signing in. For couriers you might wish to explain where to leave a delivery. For staff you might wish to inform them of a fire alarm test. Welcm allows you to do all this with your visitor management system. Customisable text as part of the sign in process means you can achieve each of these aims.
You always know which staff and visitors are on site
With staff and visitor sign in enabled you always know who is in your building. This is a huge benefit in the event of an evacuation where an accurate report is essential. With Welcm's evacuation facility you can conduct roll calls and contact visitors / hosts. Records of staff attendance are also saved which can be useful for a multitude of HR reasons.
Admin is easier and management information is more reliable
Having accurate reports about your organisation's reception area is important for many reasons. Traditional data capture methods (e.g. a paper visitor sign in book) are unreliable. Transferring the data into usable information is also very time-consuming. Worse still, as it is a manual process, the transfer can be inaccurate. A visitor management system like Welcm removes all these issues. All data is auto-saved to the visitor management system dashboard. Administrators and management can then access the data at any time from anywhere.
You can run your reception 24 hours a day, 7 days a week
Organisations often need their reception area to be open at all times. A visitor management system can run all the time without the need for your staff to be in attendance. No matter what the time is your visitor management system greets visitors. It can then direct them as required.
« Back