Introduction
If you've been tasked with looking into visitor management systems but don't know much about the subject this is a good article to start with. We're going to keep it short and just give a high-level explanation of what a visitor management system is and what it does. As with all products, there are differences between the offerings from different suppliers but we will endeavour to avoid talking about more specific details of individual visitor sign in products.
High Level Explanation
Simply put, a visitor management system is software that helps organisations deal with people who visit their building. Most visitor management systems are made up of two or three individual apps that "talk" to one another.
The Apps
Visitor Sign In App
This app is what visitors will use to sign into a building when they arrive. This app is normally available for an iPad although some systems use other tablets. This app will likely request some or all of the following information from a visitor: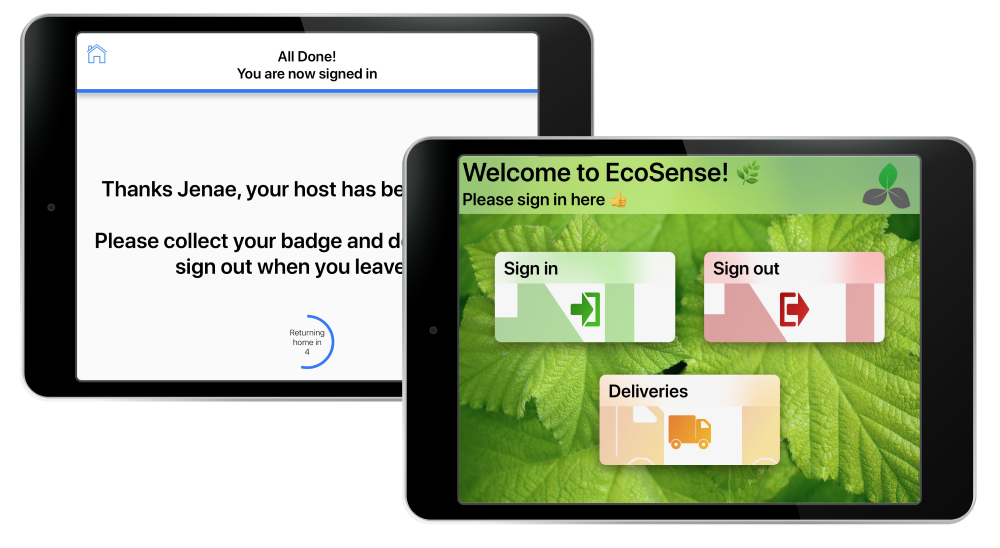 Name
Company
Email Address
Vehicle reg
Agreement to policy documents (e.g. Health & Safety notice)
Host selection (i.e. who the visitor has come to see)
Beyond collecting the information above, this app is also likely to be able to take a photo of the visitor and print a visitor badge. Generally this app is customisable, allowing businesses to select what information is collected and add their company branding to the app (e.g. their company logo).
Dashboard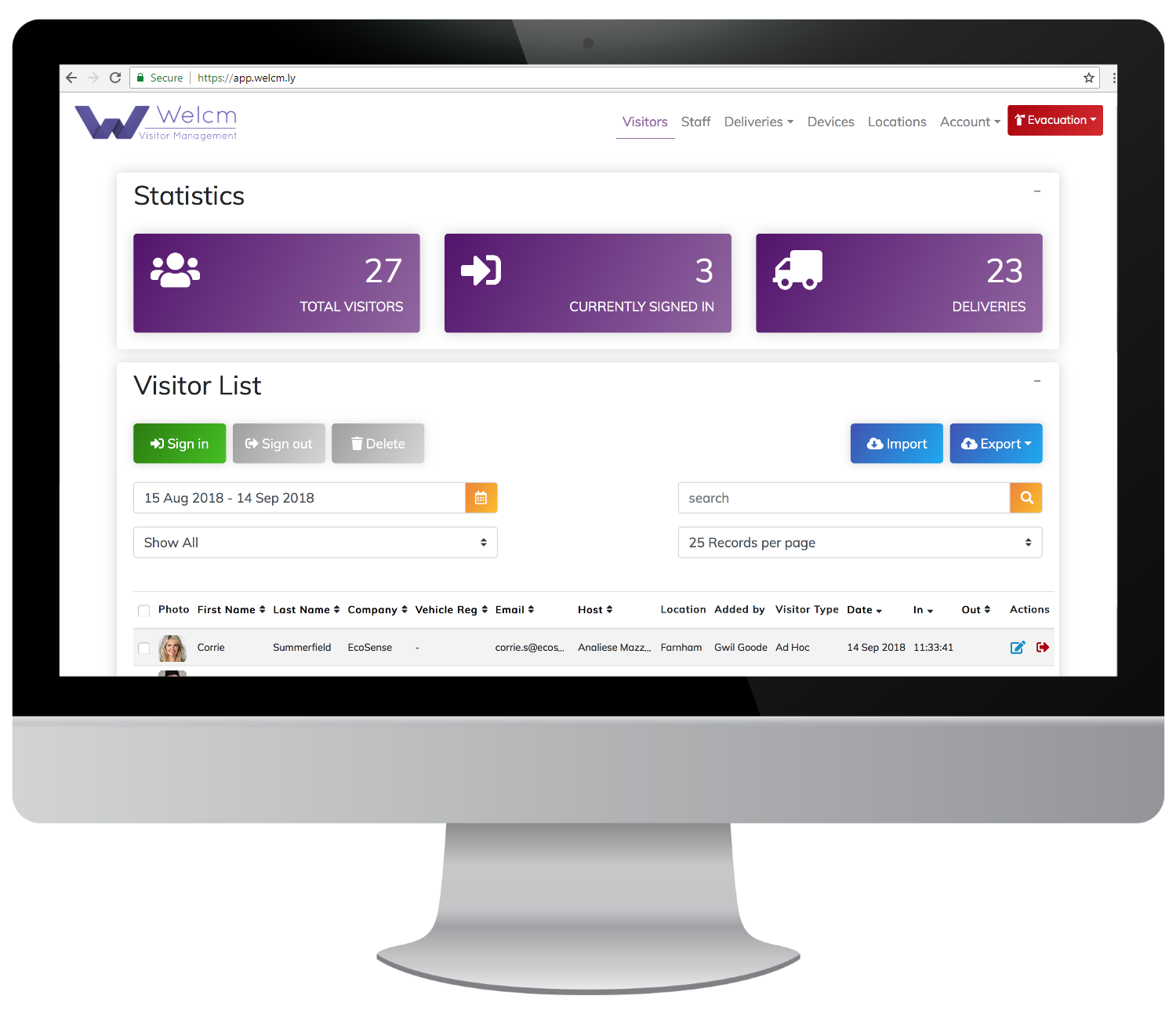 The visitor management dashboard is the main part of the overall system. It has a number of purposes. If the system is supporting an existing reception team, the receptionists will use the dashboard extensively. It can be used to sign in and sign out visitors, register deliveries, manage staff lists and send notifications to members of staff regarding their visitors.
System administrators will use the dashboard to set up the visitor sign in app. It will allow them to select which pieces of information are requested. It will also allow them to add policy documents that visitors need to read when they sign in. They will also be able to add company logos, custom wallpapers and messaging to the visitor sign in app.
The dashboard will hold all collected data. For example, the visitor list. The visitor list is like a digital equivalent of a traditional paper visitor sign in book. It displays the name, all collected information and a time / date stamp for each visitor that comes to site.
Companion App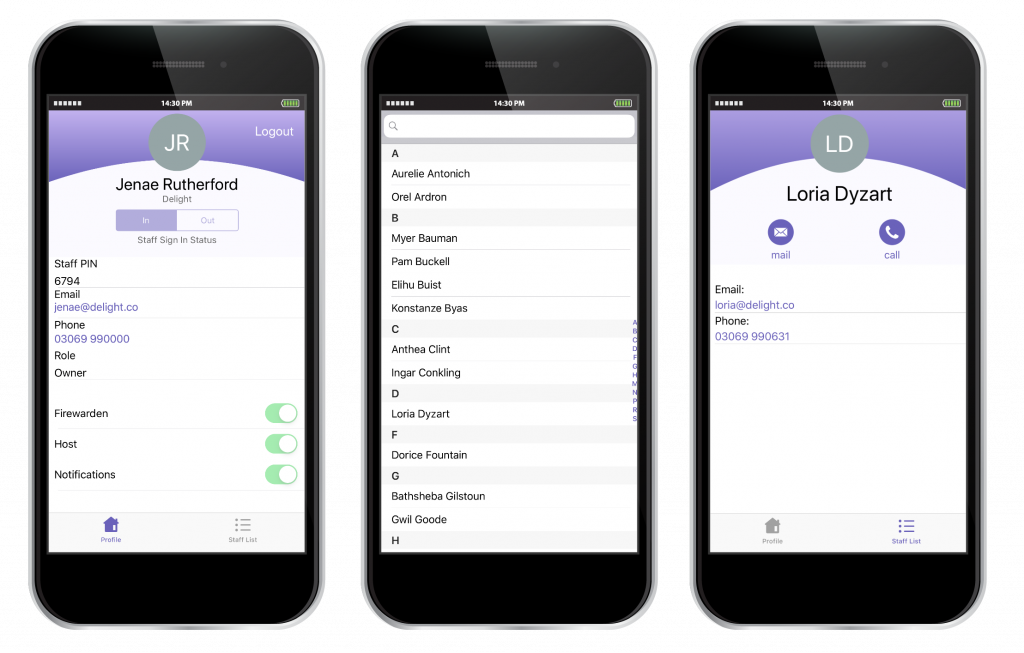 This is not part of all visitor management systems but is provided by enough of them that it is definitely worth talking about. A companion app in this sense is a phone app that supports a core piece of software. What that means is that it is not required for the system to operate but provides some useful features to the user. In a visitor management sense the features offered might include the following
Push notifications to tell the user (a member of staff) that their visitor has signed in
Staff sign in to enable the user to register they are in the building
Pre-register a visitor
Free account: All the features, 1 location, 3 devices, 100 staff
Why Use a Visitor Management System
Visitor management systems provide numerous benefits to organisations of all sizes, locations and industries. We won't go into great detail here as we're trying to keep this article short but the core benefits are as follows:
A better visitor experience
Improved security (both physical security and data security)
Improved health & safety
Improved reporting
Improved staff efficiency
Ensure adherence to policies and regulations
« Back